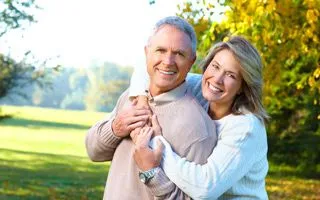 The advent of specialized cosmetic laboratory processes, increased choices of materials used for making denture teeth and now an ever increasing number of implant devices and anchoring systems that can make even the most common denture product feel, fit, function and appear like natural teeth… similar to a high grade fixed bridge.

Mini dental implants are also now available in greater numbers, from different manufacturers that enable some dentists to create a denture product that is almost indistinguishable from a classic fixed bridge.
In our office, product line from Imtec , provide our patients a seemingly unlimited menu of denture retention/anchoring devices and implant support solutions that move a common denture treatment into the area of precision cosmetic dentistry.
Dr. Donnelly can combine any variety of acrylics, denture teeth styles and aesthetics, possible use of hybrid porcelain denture teeth, palateless upper dentures (eliminates gag), stylized trimming of unneeded acrylic (for cosmetic or comfort issues), individual tooth sizing differences along with the degrees of Hollywood style whitening effects that are commonly associated with porcelain veneers.
Denture Cosmetics
Finally… what was once considered the domain of fixed bridges…. can now be made available in the form of cosmetic dentures. Depending on the choices made by each patient, their denture need not look like a denture or feel like one.
Mini and traditional implants, if incorporated into the design of a denture (including immediate dentures) can create the function, feel and durability of a traditional fixed bridge.
We are now offering 2 visit dentures!
Instead of the traditional 4-5 visits over several weeks – we can now get in done quickly saving you time. These beautiful dentures are made with a special CAD-CAM procedure in a dedicated lab. One visit for impressions and a bite, then on the second visit you get the finished dentures!
Loose fitting Dentures?
We often can place regular size or mini implants under your existing denture and retro-fit your existing or new denture to these implants, giving you greater chewing strength and, best of all, greater snap in retention.