Teeth Whitening in Downtown San Diego
Having a beautiful smile may be even easier than you think. Many people achieve the look they've been dreaming of with our simple "bleaching" or "whitening" procedure.
It's safe, quick, and inexpensive. Just let us know at any appointment if you would like to begin bleaching. You can lighten only your upper teeth or both the upper and lower, depending on how much of each shows when you talk and smile.
How are we different from the over the counter whitening products such as "white strips"?
We use customs made trays that fit your mouth to hold more of the solution next to your teeth and we use prescription strength bleaching solutions that come in differing strengths to give you maximum whitening with minimum sensitivity. Our solutions are water based, time-release, and buffered unlike many of the over the counter products.
In only a day or two your custom bleach splints will be ready for you to pick up. We provide you with a special bleaching agent that you put into the clear, almost invisible splints. With only a few hours of wear per day, our special bleaching agent bubbles stains right out of your enamel in a very short time without altering tooth structure or existing dental work in any way. When your teeth reach the brightness you want, only occasional treatment is needed to maintain your new smile. We'll want to take "after" photos at your next appointment.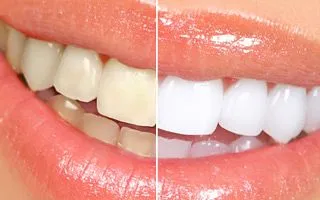 Dental bleaching can be used to correct many tooth discolorations. These discolorations may have been caused by staining, aging, or chemical damage to teeth. Using the latest in bleaching technology, we can offer a safe method for creating a beautiful, "brilliant" smile. In cases of extreme tooth discoloration, crowns or veneers may be the only choice. But because of the low cost of bleaching treatments, bleaching is nearly always worth a solid try.

---
Key Benefits
Corrects brown, yellow and mottled tooth staining
Works on people of all ages.
Is a near permanent solution for a "dull" smile, restoring brightness and bringing a smile alive.
Are you considering Teeth Whitening treatments? Contact the San Diego, CA dentists at David Donnelly D.D.S today at (619) 231-0822 for more information or to book a consultation. Dr. David M. Donnelly, DDS has been serving the neighborhoods of West Village, East Village, Hillcrest, North Park, and Balboa Park for years and we would be happy to answer any and all questions.